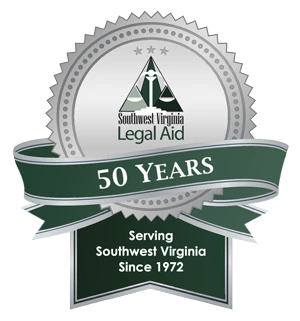 In 2022, Southwest Virginia Legal Aid Society celebrated the 50th year of providing legal services to ALL Virginians.
As we begin to embrace the promise and challenges of 2022, we gain inspiration by the progress SVLAS has achieved over the last 50 years. Between January 1972 and December 31, 2021, SVLAS closed 140,331 cases which benefitted over 300,000 people in our region. We provided those beneficial services during crucial events in our history that included national crises, economic downturns and natural disasters.
We still provide the same high quality of legal services that enabled us to grow from a law firm of just one attorney to a firm that now serves all of Southwest Virginia. What follows is just a glimpse of the ways in which we've grown and persevered over the years . . .
Southwest Virginia Legal Aid Society Timeline
LEGAL AID ESTABLISHED
Smyth-Bland Legal Aid Society was founded after a successful application was filed by the Mountain Community Action Program. That first office had one attorney and served two counties (Smyth and Bland). The major efforts focused on opening hospital doors to low-income pregnant women in need of obstetrical care.

SVLAS worked with Emory and Henry College to prepare educational material for the poor on how they are affected by laws.

Joseph S. Tate was hired as the first Executive Director. 60 cases were closed.
OFFICE OPENS IN ABINGDON, VA
Office opened in Abingdon after funding expanded the service area to Washington County.
LEGAL AID IS GROWING
First work-study hired and Emory and Henry students receive academic credit for working as paralegals. Agency now has two attorneys. Eugene E. Lohman becomes director.
OFFICE OPENED IN BLAND, VA
Richard A. Money becomes Executive Director. Focus for organization becomes consumer, welfare and disability. Bland Office opens.
OFFICE OPENED IN WYTHEVILLE, VA
Now there are three attorneys on staff.
EXPANSION CONTINUES
Expansion funds to Grayson/Carroll/Galax sought but denied. Expansion funds sought for Bristol, Virginia were granted.
OFFICE OPENS IN BRISTOL, VA – NAME CHANGE!
Office opened in Bristol, VA. Robert U. Johnsen hired as new Executive Director. Southwestern State Hospital and Bland Correctional Center. Agency name officially changed to Southwest Virginia Legal Aid Society.
WE PERSEVERE
Proposed expansion to Carroll, Grayson and Galax was denied by LSC. Community Education Project with E&H expanded. Major case was undertaken to ensure physical safety and access to food stamps, healthcare and adequate shelter for migrant workers and their children.
OFFICE OPENS IN INDEPENDENCE, VA
Agency had a $51,000 reduction in funds for the existing service area, but LSC agrees to fund expansion into Grayson, Carroll and Galax. Independence office opens. Entered into first Agency on Aging contract with District III.

Firm is now serving low-income residents of 6 counties and 2 cities in Southwest Virginia (the current Mount Rogers Planning District).
BRISTOL OFFICE CLOSES
Eileen McLivane appointed as Executive Director. The firm now has offices in Marion, Wytheville, Abingdon, and Independence. Clients in Bristol are served from the Abingdon office.
WYTHEVILLE OFFICE CLOSES
Top priority was outreach and community education with 7 community education events per month. Strong efforts to revise Landlord Tenant Act.

Began our Private Attorney Involvement Program. Firm adapts to reduced funding – closing the Wytheville Office, laying off staff, and reducing employee salaries.
SERVICE AREA THE SAME – BUT FEWER OFFICES AND STAFF
Down to 3 offices – in Marion, Abingdon and Independence. Offices closed to adapt to reduced funding.
ABINGDON AND INDEPENDENCE OFFICES CLOSE
Abingdon and Independence Offices close. Firm now serves the same 6 counties and 2 cities from the Marion Office. Private Attorney Involvement Program expands. Added the first toll-free number for client use.
FIRST UNTED WAY FUNDING
Received funding from United Way of Wythe, but LSC funding decreases.
WE PERSEVERE
26,148 eligible poor in service area. 1,998 requested services. Serve six counties, two cities. Referrals to 20 private attorneys. 1,899 cases opened, 1,875 closed.
ADDITIONAL UNITED WAY FUNDING
New funding granted from the Washington, Twin County and Bristol United Ways.
Received $66,357 funding from federal sources. 1,235 requested services. Increased Community Education. 1,130 cases opened, 1,111 closed.
Federal funding continues to diminish. Adopted a Service Delivery Plan which prioritized the cases we would accept. Those priorities were for basic necessities – such as food, housing, health care, maintaining a minimal income, selected family issues, and cases that might affect significant numbers of low-income persons.
20TH ANNIVERSARY CELEBRATION
Celebration dinner was held to mark 20 years.
Larry Harley appointed Executive Director
OFFICE RELOCATION
SVLAS moves into it's current 227 West Cherry Street, Marion, Virginia Location.
DOMESTIC VIOLENCE BECOMES A PRIORITY
Received first grant to do domestic violence work – VSTOP grant from DCJS.
SERVICE AREA EXPANDED – WE SERVE ALL OF SOUTHWEST VIRGINIA
SVLAS is awarded the Legal Services Corporation grant for a newly expanded service area – formerly served by three legal aid programs. We now serve 17 counties and 4 cities in Southwestern Virginia. [Our current service area today].
GROWING PAINS
Started the year with challenges to serve three times as many clients in an area three times as large after the consolidation of the service area. After SVLAS was awarded the grant, the former Legal Aid Society of the New River Valley merged with SVLAS and became our current Christiansburg Field Office.

SVLAS opened a new office in Castlewood to serve the coalfields, located in an old shopping center! That office became our SVLAS Castlewood Field Office. The original SVLAS office in Marion became the Marion Field Office and Administration Unit.

Larry Harley remains Executive Director for SVLAS. Each of the three offices were assigned managing attorneys. SVLAS collaborated in the establishment of one statewide number for citizens interested in applying for Legal Aid.
WE EXPAND OUR WORK WITH DOMESTIC VIOLENCE
SVLAS received its first Legal Assistance to Victims (LAV) grant from the Department of Justice. This is the first sizeable grant to serve victims of domestic violence and our first subgrant relationships with victim agencies.|

The Legal Services Corporation deeds an office building in Castlewood to SVLAS and this location became our current Castlewood Field Office location.

SVLAS celebrates its 30-year anniversary. To celebrate, an event was held with keynote speaker, Honorable Cynthia Kinser giving the keynote address. The Honorable Joseph Tate, former Executive Director of SVLAS, spoke of the history of the program.
WE HELP A LOT OF PEOPLE!
Record year for legal services provided in Southwestern Virginia. We closed 6,360 cases, helping over 17,000 low-income people. We served 657 domestic violence victims, a 400% increase over the previous year.
We provided brief advice to more than 4,500 people. Larry Harley, current Executive Director, named as one of Virginia's top twelve attorneys by Virginia Business.
SUBGRANTS
Were refunded by U.S. Dept. of Justice and entered into subgrants with seven partner agencies: Women's Resource Center, Family Resource Center, Abuse Alternatives, Hope House of Scott County, Crisis Center, People, Inc, and Clinch Valley Community Action. S VLAS hosted a gathering of more than 100 attorneys, judges, clerks and law offices to honor the contributions made by attorneys participating in our Private Attorney Involvement Program.
Legal Services Corporation of Virginia leads first state-wide needs assessment of low-income people. Significant findings of survey found 54.5% of those surveyed reported some type of legal need during 2006.
FIRST DOMESTIC VIOLENCE CONFERENCES HELD
SVLAS sponsors multiple Educational Events across the service area. First Domestic Violence Conferences were held in Abingdon and Radford, drawing over 100 people, private and legal aid attorneys, prosecutors, police, domestic and sexual assault advocates, social workers and educators.
MEDICAL-LEGAL PARTNERSHIPS FORMED
SVLAS developed partnerships with three community health care systems – Stone Mountain Health Services, Clinch River Health Services and SW VA Community Health Care Systems. Health care workers asked to refer patients with legal problems to SVLAS.
Tornado hit Glade Springs and Executive Director Larry Harley spoke at the Disaster Recover Center to victims dealing with the destruction, working with victims to help educate them on how SVLAS can assist with recovery. SVLAS responsible for a significant improvement in the Court System for low-income people – low-income persons no longer required to pay for an incarcerated spouses' attorney in a divorce proceeding.
SERVING WELL
SVLAS needed additional funding for the domestic violence conferences and six private local law firms donated funds. As a result, two conferences were held in Abingdon and Christiansburg.
SVLAS purchases the Marion Office building.
SVLAS receives its first RURAL grant from the U.S. Department of Justice.
Board Composition changed from 21 members to 13 members.
SVLAS receives its first VOCA grant from the VA Dept. of Criminal Justice Services
Larry Harley retired. Joseph R. Carico appointed Executive Director of SVLAS.
PANDEMIC – LEARN TO WORK DIFFERENTLY
Covid-19 pandemic accounted for 11% of all staff time from March to December. Offices closed to the public but legal work continues remotely. Attorneys continue to handle hearings virtually.

As part of its Program Quality Visit, LSC noted that the SVLAS total case closures in 2020 exceeded the national medians despite the effects and limitations of the pandemic.

Domestic Violence and Elderly Abuse conferences held virtually with huge participation.

SVLAS was honored to receive the AARP Virginia 2020 Community Partner of the Year Award.
WHERE WE ARE NOW
As we begin our 50th year in operation, we have 22 Attorney Positions and a total staff of 42.

We continue to serve clients from our three offices [Christiansburg, Marion and Castlewood]

We continue to cope with the pandemic – continuing to serve clients as safely as possible.

We received 5,120 calls for legal assistance in 2021 and closed well over 3000 for that year – compared to the 60 cases closed in 1972. In the last 50 years we have experienced huge expansion, and some very hard times, but this firm continues to provide free, high-quality legal services to as many low-income people as possible through the hard work and dedication of our staff.