Teen Dating Violence Webinar
February 11, 2022
1:00 pm – 2:00 pm Zoom Webinar
Teen Dating Violence
Continuing Education Credits are not available for this webinar.
About Our Presenter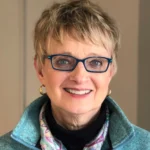 Kelly Weisberg
Professor of Law
Hastings College of the Law, University of California
Professor D. Kelly Weisberg has been a faculty member at the University of California, Hastings College of Law for more than 35 years. She teaches courses on domestic violence, stalking, family law, juvenile justice, children and the law, and wills and trusts. Since 2013, she has served as editor of Domestic Violence Report, a national newsletter on domestic violence law and policy. In that role, she was awarded the 2021 Hope Rising Journalism Award at the 21st Annual International Family Justice Center Conference. The award recognizes those who have helped advance awareness, training and policy change around domestic and sexual violence, child abuse, elder abuse and human trafficking.

Professor Weisberg is the author of several law review articles and books on family law and domestic violence, including MODERN FAMILY LAW; CASES AND MATERIALS (Wolters Kluwer, 7th ed., 2020), DOMESTIC VIOLENCE LAW (West Academic Pub. Co. 2019) and DOMESTIC VIOLENCE: LEGAL AND SOCIAL REALITY (Wolters Kluwer, 2nd ed., 2019). She is a member of the American Law Institute (ALI) and a liaison to the ABA Commission on Domestic and Sexual Violence.

Professor Weisberg received her undergraduate degree, graduating Phi Beta Kappa with a double major in Sociology and French Literature, and her PhD in Sociology from Brandeis University. She received her JD from the University of California Berkeley School of Law.
Her webinar presentation will focus on "The Law's Response to Teen Dating Violence." She will examine the nature and extent of this social problem, highlight the various legal approaches to the problem in terms of state and federal law, the shortcomings of these approaches, and suggest policy reforms to better address and prevent such violence.
---
Teen Dating Violence Webinar
Recorded February 11, 2022
---